Dr. Mary Manz Simon, ALOA Board of Directors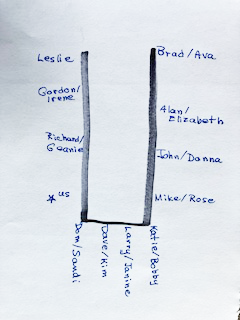 There's a "memory prompt" hidden in our kitchen cabinet. The scrap of paper hanging on the inside door helps us "look smart" when we socialize with neighbors.

As people moved into our new community, my husband recorded the names of those on our cul-de-sac. Now, we greet friends by name. A "senior moment" doesn't stop the socializing.
During the aging process, we become increasingly forgetful. We might not remember where we left the phone or dropped a jacket. These mental glitches are common among older adults. That's why many of us organize medications in a daily pill case or hang a key holder at the garage door.
Although we might assume mental sharpness declines very late in life, scientists now know the brain's volume peaks in our early 20's. The brain cortex starts to shrink in our 40's, when we might first notice slight changes in the ability to multi-task or remember. The pace of this mental decline speeds up with increasing years.
Often, our sensitivity about memory loss or choosing just the "right" word happens because we compare current abilities now to what we did when younger. However, even during "old age," our brain still isn't "over the hill." Learning is a life-long process: our brains can produce cells at any age. We can still grasp new information and save it in our memory bank. That's good news!
Take these 3 steps to support memory fitness:
Reduce anxiety. We are more likely to suffer memory gaps when we're stressed. Although COVID continues to be an invisible negative, prioritize mental and emotional health. Reframe expectations to fit the reality of life in a pandemic. We've come this far. With God's help, we can continue to take one day at a time.
Adjust and adapt. Age-related changes in how we code and retrieve information are a part of life. Write a list of things "always to take" when leaving the house: wallet, sunglasses, hearing aids, etc. Then post the list on your most common exit door. Routines broken into "One, Two, Three" can also be a handy memory aid.
Be optimistic. Decide to set a positive tone each morning. Scientists say facial expressions impact our mood, so see if smiling into the mirror boosts your positivity level. Or, read an uplifting psalm: try 136, 147 or 148. A balanced lifestyle, including regular aerobic exercise, boosts spirits. These activities that promote healthy aging also contribute to a healthy memory.
Although some brain changes are inevitable during the aging process, many things don't change. Our moral framework provides a foundation of internalized Scripture-based values. Decades of life experiences contribute to a solid base of knowledge. Our innate common sense guides judgment calls.
The Old Testament prophet, Job, wrote, "Old people are wise. Those who live a long time have understanding." (Job 12:12 NIRV) We gain that depth when we accept and adjust to normal, age-related changes and trust the God who has demonstrated his faithfulness.
Take a look at previous posts for more inspiration for older adult ministry.