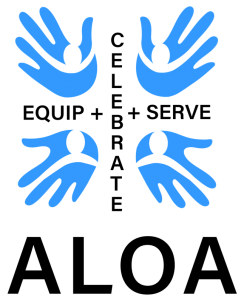 Our logo has two hands up in praise to God and two hands down in service to one another. The three words inform all that we do for, by and with older adults.
Celebrate: We celebrate who older adults are as contributing, important members of congregations and of the world. Encourage a vibrant spiritual life in the later years.
Equip: Older adults equip themselves for new stages of life as they unfold, and the church must equip itself to meet these important challenges with a growing population.
Serve: Older adults are not passive, but vital members of congregations. They simultaneously serve as they face the struggles of life unique to their stage of life.

Graying in Grace Bible Study – Instead of aging congregations, the church should see the possibilities for evangelism, discipleship and renewal among older adults. In this bible study, Pastor Brad Hales focuses on assisting older adults in clinging to the faithful promises of God, and "walking alongside" those who want to grow into "mature disciples." Download Bible Study

Scriptural Retirement – Serving and Sharing Jesus – How is retirement viewed through the lens of Holy Scripture? God has definite plans for us in our later years. In Scriptural Retirement – Serving and Sharing Jesus, Pastor Brad Hales takes a biblical look at what God calling us to do with our time, our resources, and the gifts which he has provided. Download Bible Study